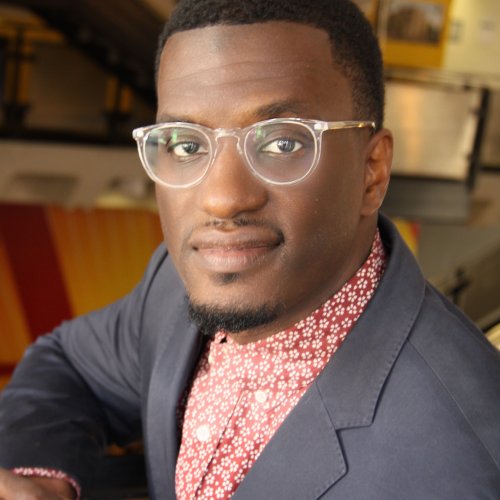 Robeson Taj
Frazier
Associate Professor; Director of the Institute for Diversity and Empowerment at Annenberg (IDEA)
Program
Communication Ph.D Program
Phone
(213) 740-6595
Office
ASCJ 326D
More

Robeson Taj
Words to live by
"That's the problem with history, we like to think it's a book… [But] it's memory, & memory is time, emotions, & song." Paul Beatty
Expertise
Globalization
IDEA
Political Communication
Popular Culture
Race and Ethnicity
Sports
Center Affiliation
Center on Public Diplomacy
Institute for Diversity and Empowerment at Annenberg
Professor Frazier's research explores the experiences, intellectual history, and political and expressive cultures of the people of the African Diaspora in the United States and in 20th and 21st century China. His interests include African American cultural and social history, critical cultural studies, decolonial/postcolonial studies, popular culture, urban history and culture, and the formation and conditions of globalization. His writing, research and teaching are committed to exposing students and the wider public to the value of a critical and historical approach to culture and communication, and cultivating greater awareness of the identities, subjectivities, and social and political contexts that encompass contemporary life in the United States and other places. 
He is the author of The East Is Black: Cold War China in the Black Radical Imagination (Duke University Press, 2014), and is currently completing another book, From Mao to Yao: Culture, Media, and Black Life in China.
He is the co-producer of the forthcoming documentary film The World Is Yours, was on the Scholarship Steering Committee for the audio-visual and traveling art platform Question Bridge: Black Males, and is on the editorial board for the Journal of Race and Policy. 
Frazier has produced a diverse portfolio of articles, book chapters, and cultural criticism on topics including race and ethnicity, social movements, the politics of travel and mobility, hip hop culture, urban history and struggles over public space, African American and Chinese art, and technology and new media. This work has been published in edited books including The New Black History: Revisiting the Second Reconstruction (Palgrave Macmillan, 2011), African Americans in Global Affairs (University Press of New England/Northeastern University Press, 2010), and Migrating the Black Body: Visual Culture and the African Diaspora (University of Washington Press, forthcoming); as well as in academic journals and periodicals such as American Quarterly, China Information, Boom: A Journal of California, Socialism & Democracy, The Journal of History and Cultures, The Journal of African American History, Souls: A Critical Journal of Black Politics, Culture and Society, The San Francisco Chronicle, and The Black Arts Quarterly. 
Before coming to USC, Frazier taught at New York University and the City University of New York.  He received his B.A. in International Relations and African American Studies from the University of Pennsylvania in Philadelphia and his Ph.D. in African Diaspora Studies from the University of California Berkeley. His research has been funded by the Woodrow Wilson National Fellowship Foundation, USC's Advancing Scholarship in the Humanities and Social Sciences Initiative, and the Ford Foundation.
INTERVIEWS AND GUEST LECTURES
* Interview by PULLED TOGETHER
* Interview by Culture Matters
* USC ASE Commons Lecture Series
* USC US-China Institute 2013 Conference
PUBLICATIONS
2017 ""Playing the Chinese card": Globalization and the Aesthetic Strategies of Chinese Contemporary Artists." International Journal of Cultural Studies
2015 "Ethnic identity and racial contestation in cyberspace: Deconstructing the Chineseness of Lou Jing." China Information
2013 "Krumpin' in North Hollywood: Public Moves in Private Spaces." Boom: A Journal of California
2013 "Diplomacy as Black Cultural Traffic: Debates over Race in the Asian Travels of Adam Clayton Powell and Carl Rowan." The Journal of History and Cultures
2011 "Thunder in the East: China, Exiled Crusaders, and the Unevenness of Black Internationalism." American Quarterly
2011 "Afro-Asia and Cold War Black Radicalism." Socialism & Democracy
2011 "Gerald Horne's Sketches of Black Internationalism & Transnationalism." The Journal of African American History
2011 "The Routes Less Traveled: The Great Transformation of James Boggs."  Souls: A Critical Journal of Black Politics, Culture and Society
2009 "Black history most important in Obama era." The San Francisco Chronicle
2009 "Biggie Smalls lives on big screen." The San Francisco Chronicle
2006 "Of saints and rappers -- artist melds old and new." The San Francisco Chronicle
2006 "The Congress of African People: Baraka, Brother Mao, and the Year of '74." Souls: A Critical Journal of Black Politics, Culture and Society
Course Titles
UNDERGRADUATE
COMM 206: Communication & Culture
COMM 360: The Rhetoric of Los Angeles
COMM 450: Visual Culture & Communication
COMM 458m: Race & Ethnicity in Entertainment & the Arts
GRADUATE
COMM 519: Cultural Studies & Communication
COMM 620: Black Popular Culture—Theory and Central Debates